Manatees and More - Family Fun Day Tour (5 hr) - Crystal River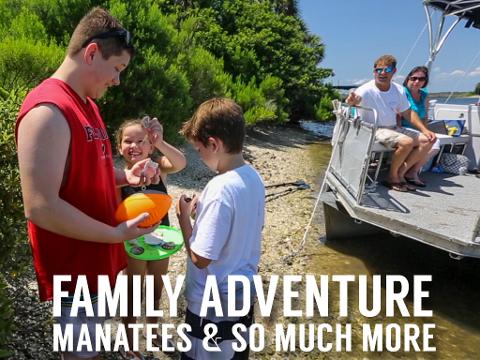 期間 : 5 時間 (約)
所在地: Crystal River, FL
製品コード : FamilyFun
If you are visiting Florida hoping to enjoy all the water activities we have to offer, then this is the tour for you!
Slow cruise in the manatee zone? Check!
Option to snorkel with our endangered friends? Check!
Speed boating down the river taking turns on a tube? Check!
Island hopping for a picnic or salt water snorkel? Check!
Kayaking from the island shore or from your boat in open water? Check!
Laughing and bonding with your friends and family during a day filled with adventure?
Check, check, check!!
Let us customize a tour that can deliver you memories and fun for your entire family or group!
Envision your ultimate day, and let River Ventures handle the details!

Let the kids unplug and the adults unwind, there is something so special about spending a day together in fresh air and sunshine! There is no other tour quite like this in Citrus County and no other tour Company does it quite like River Ventures. Have no doubt when booking, everyone in your group will have an awesome time!
Your boat comes equipped with a one person tube, and two kayaks (singles or doubles)
Departs daily at 11:15, approx 5 hours from start to finish
Your choice of activities: manatees, kayaks, tubing, island hopping or a combination
Six person covered pontoon with a Master Captain at the helm
We welcome adults and children of all sizes, but moderate physical ability is needed to disembark onto the islands, tubes or kayaks
Bottled water provided, parking and gear included in price!
Please call to book within 48 hours of tour date.