Semi-Private or Private 6 Passenger Vessel - Scallop Hunt WITH In-water Guide - CRYSTAL RIVER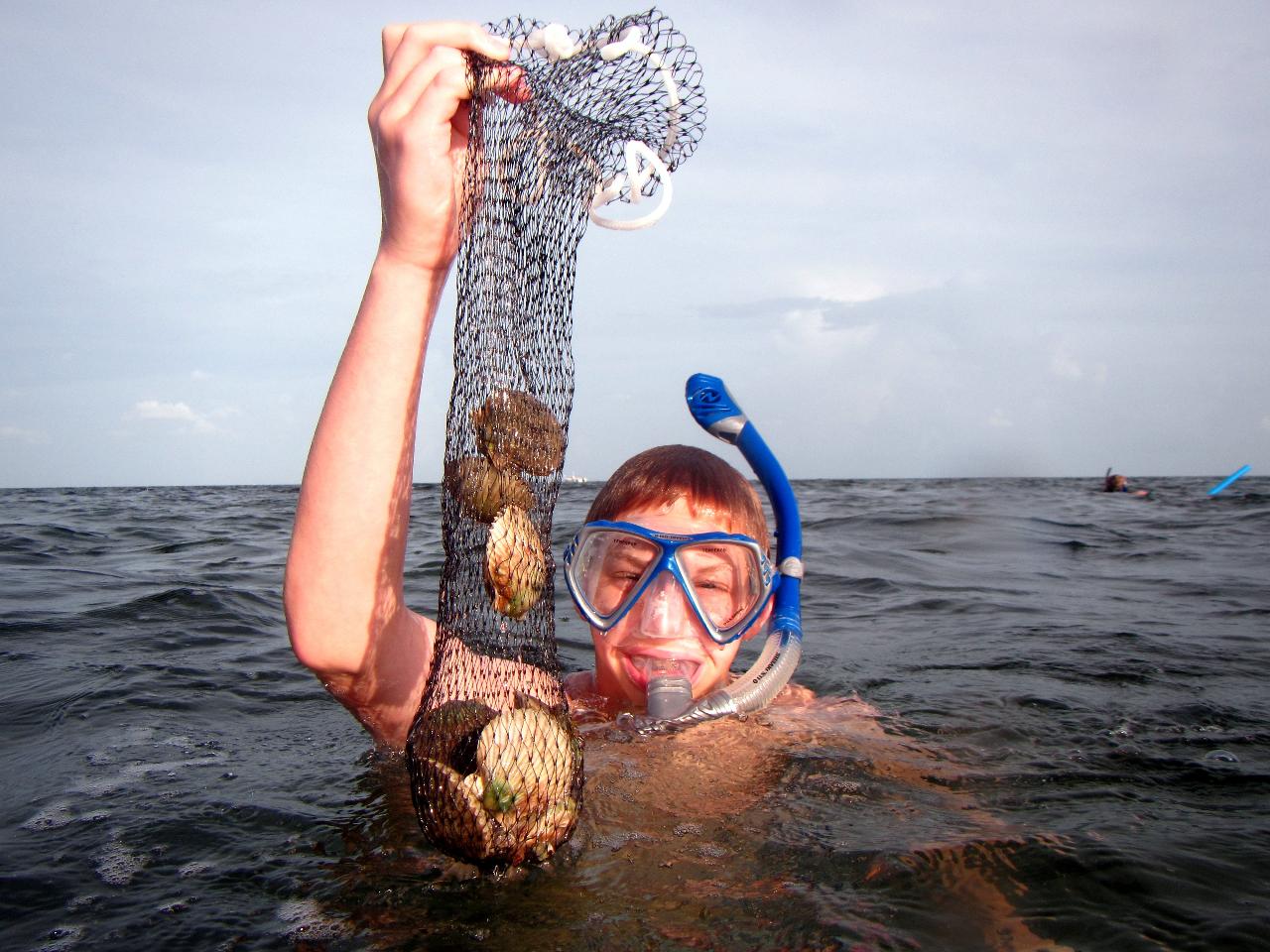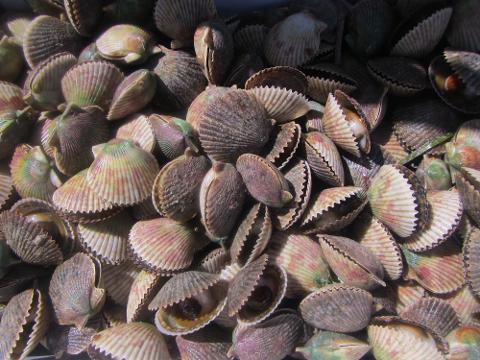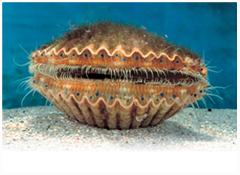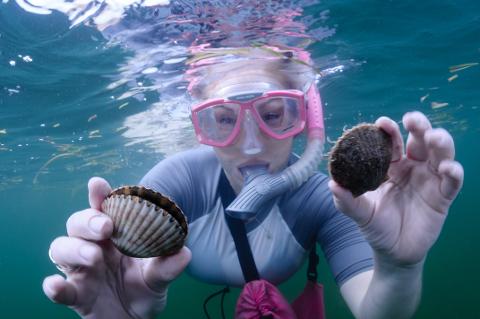 Duration: 5 Hours (approx.)
Location: Crystal River , FL
Product code: 6paxscallop
You'll find top-notch scalloping just north of Tampa in the Crystal River area — an area surrounded by natural beauty that can only be found on the Florida Coast. The Crystal River is fed by over 100 springs before it pours into the Gulf, creating one of the best scalloping spots in Florida! Surrounded by some of the richest grass beds in the Gulf of Mexico, Crystal River has an abundance of wildlife that won't be found in the more crowded areas of Florida.
Searching for scallops is so much fun it has made Citrus County a world famous destination for this unique and satisfying activity. Our Master Captain will lead your group to the Gulf of Mexico for nearly 5 hours of salt water delight! Take a leisurely day out of your hectic vacation and relax with confidence on our comfortable boats. Nestled in the shallow grass beds off the Crystal River, scallops spawn in summer and then reach the end of their life cycle. These delicious morsels are just waiting to be someone's dinner!
Come for the scallops, stay for the manatees! Around 40 manatees call this river system home in the warmer seasons, so sightings are quite common. Birds, turtles, an assortment of fish, dolphins and otters also make appearances for lucky visitors! Many people will scallop one day, stay overnight then do a manatee tour as well. While you are here, you might as well soak up all the adventure! So if you love wildlife and want to collect some scallops, there's no better place than the Crystal River and no better guide than River Ventures and Safaris!
- Tours depart daily at 1045am
- 5 hour adventure
- Everything you need is included; license, mask, snorkel, fins and bag for your catch
- Master Captain must remain onboard, but you will be joined by an in-water guide to show you the ropes and help you gather! They will also teach you how to clean your scallops!
- Bottled water included; bring snacks or refreshments as desired
- Semi-private group; never more than 6 per boat
- Minimum of 3 required to run tours
This tour DEPARTS from River Ventures - Crystal River 498 SE Kings Bay Dr.

ATTENTION: This Gulf adventure is recommended for STRONG SWIMMERS, the condition in the ocean can vary greatly and change quickly. The Gulf can get choppy and you may be scalloping in water anywhere from 4 feet to 10 feet in depth (depending on tides and local of scallops). It is strongly advised not to bring children under 5. You are ultimately responsible for your child while out scalloping and if you choose to bring a child, include them in your total passenger count.
SCALLOP TOURS ARE DONE IN THE GULF OF MEXICO WHERE CONDITIONS ARE VARIABLE. THE BEST SCALLOPING CONDITIONS ARE ON SUNNY DAYS AT LOW TIDES…BEST CHANCES AT AVOIDING AFTERNOON STORMS WILL BE ON THE EARLY MORNING DEPARTURES. RAINFALL, WINDS, TIDES, MOON CYCLES AND SUNLIGHT ALL HAVE SIGNIFIGANT EFFECTS ON VISIBILITY AND ROUGH WATERS CAN BE VERY DIFFICULT FOR SOME TO ENDURE. KEEP IN MIND WHILE BOOKING YOUR SCALLOP TOURS THAT WE CAN NOT CONTROL MOTHER NATURE, PLEASE PLAN ACCORDINGLY.
What to Bring on Your Scallop adventure.....
You are provided with all the gear that you need other than a personal comfort items, bathing suit and towel. Bottled water is provided and our Captain will have a cooler on board to keep your catch while on the boat. You will
need to bring a cooler to take your catch home with you. Sunscreen, hat, sunglasses, snacks....all a good
idea to take with you. ANYTHING THAT YOU DO NOT WANT TO GET WET SHOULD NOT BE BROUGHT
ONBOARD, BETTER SAFE THAN SORRY! You are welcome to bring beer or wine, but we ask that you do
not bring glass containers and dispose of your trash properly.
What to Expect From your Scallop Adventure.....
This is a HUNT! We snorkel at the top of the water and when you spot a scallop you must dive down to
retrieve it and put it in your bag. Being a strong swimmer is a good idea, and taking small children out to
scallop is not recommended. WE DO NOT ALLOW INFANTS ON OUR SCALLOP BOATS.
Ideal conditions would be clear shallow water, but during higher tides water can be 10 to 12 foot deep.This can be much more difficult to manage. NO ONE REACHES LIMIT EVERY SINGLE DAY AND IF YOU WANT THE CHEAPEST, MOST PRACTICAL WAY TO ACQUIRE SCALLOPS, THEN THE SEAFOOD SECTION AT THE LOCAL GROCERY STORE MAY BE THE BEST OPTION FOR YOU. IF YOU WANT GOOD TIMES AND ADVENTURE, THEN COME SEE US!
Your Captain will demonstrate how to clean the scallops, but will not clean them for you. They will have suggestions of where you can go to find someone who will clean them for you if you prefer. Most people choose to do it themselves, it is truly part of the experience! Your car will be waiting for you when you return, so your group is free to go about your day at your own pace.
Cancellation Policy:
Reservations canceled prior to five calendar days of the Tour, Charter or Rental arrival date will receive a full refund less the booking fee of 4%. Any Tour, Charter or Rental canceled by River Safaris or River Ventures due to inclement weather or other conditions beyond our control shall receive a 100% refund.
Reservations canceled less than the time period or conditions outlined above will be offered a chance to reschedule (based on availability) or receive a voucher for the Tour, Charter, or Rental for the full amount paid. Vouchers have no expiration and may be used towards any Tour, Charter, or Rental.