Semi-Private or Private - 6 Passenger Vessel - Scallop Hunt WITHOUT In-water Guide - HOMOSASSA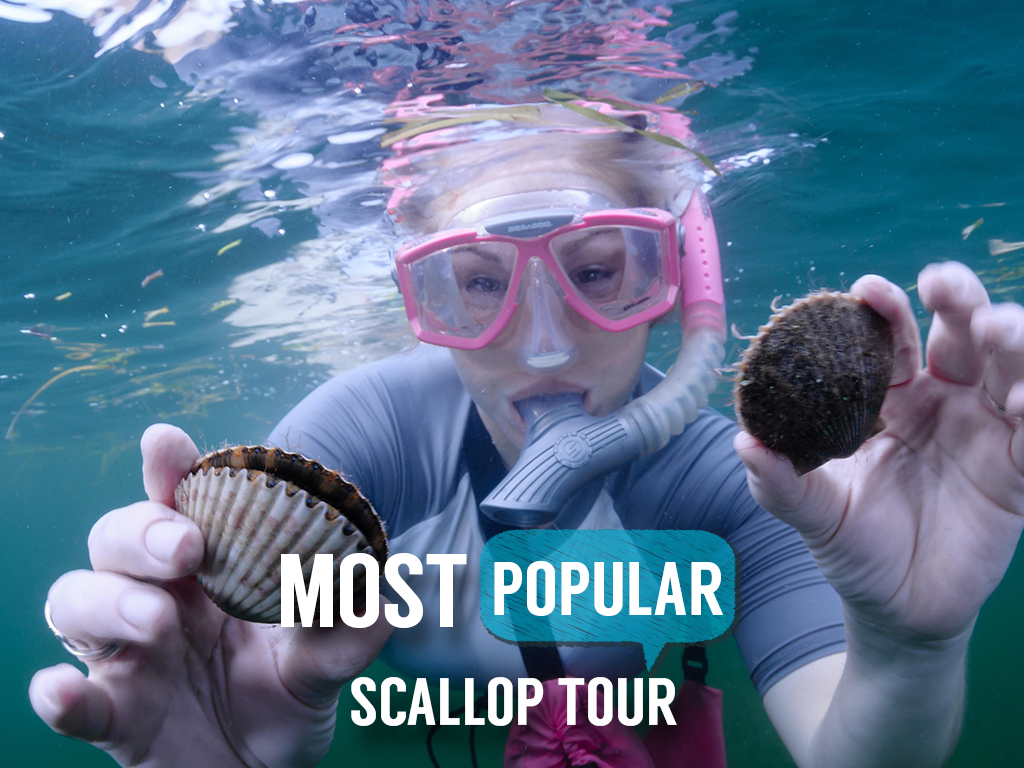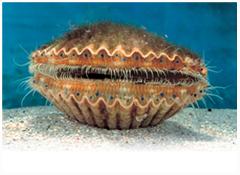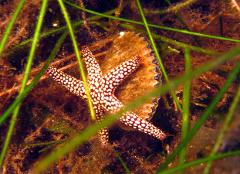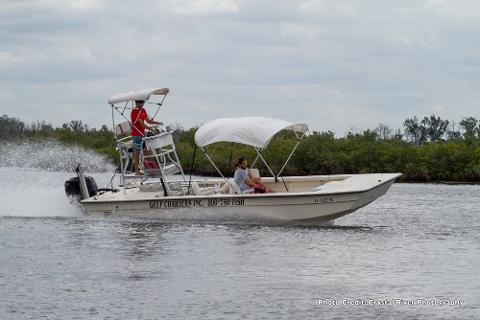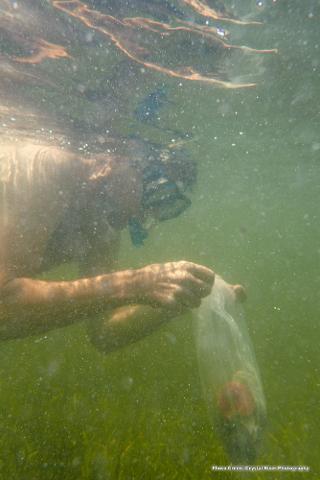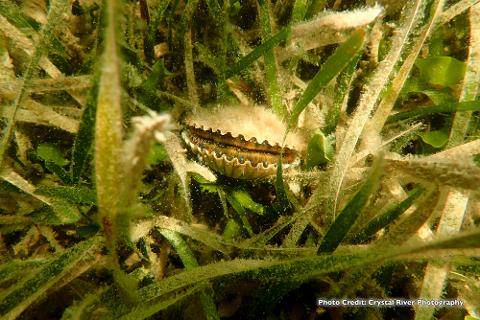 Duration: 5 Hours (approx.)
Location: Homosassa, Florida
Product code: Scallop6pax
Searching for scallops is so much fun it has made Citrus County a world famous destination for this unique and satisfying activity. Our Master Captain will lead your group to the Gulf of Mexico for 5 hours of salt water delight! Take a leisurely day out of your hectic vacation and relax with confidence on our comfortable boats. Feel the wind in your hair, smell the salt in the air and bask in the sunshine while we take care of the details!

Nestled in the shallow grass beds off the Homosassa River, scallops spawn in summer and then reach the end of their life cycle. These delicious morsels are just waiting to be someone's dinner! Like an Easter Egg hunt under water, you never know what wildlife you may see out there... dolphins, sea turtles, starfish and seahorses. Corals, remora, pufferfish and conch... what will you discover on this adventure? Our Captains are highly qualified and experienced; you are in good hands and will have a phenomenal time! Captains legally may not leave their boat unattended, an in-water guide IS NOT included in this price. We highly recommend an in-water scallop guide if you have never scalloped before.


Semi-private or private boat accommodates up to 6 people
Minimum 3 people to run tour
Everything needed is included. License, mask & snorkel, fins and scallop bag all provided!
Maximum harvest of 10 gallons per vessel or 2 gallons per person.
Bottled water included (you may bring additional refreshments or snacks)
Captains must remain onboard and an in-water guide IS NOT INCLUDED, but our in-water guides can be booked for an extra fee and will join you in the water to show you the ropes and help you gather! They will also teach you how and help you clean your scallops!
Please call for booking if within 24 hours.
This tour departs from our River Safaris location: 10823 W Yulee Dr, Homosassa FL 34448 map
ATTENTION: This Gulf adventure is recommended for STRONG SWIMMERS, the condition in the ocean can vary greatly and change quickly. The Gulf can get choppy and you may be scalloping in water anywhere from 4 feet to 10 feet in depth (depending on tides and local of scallops). It is strongly advised not to bring children under 5. You are ultimately responsible for your child while out scalloping and if you choose to bring a child, include them in your total passenger count.
SCALLOP TOURS ARE DONE IN THE GULF OF MEXICO WHERE CONDITIONS ARE VARIABLE. THE BEST SCALLOPING CONDITIONS ARE ON SUNNY DAYS AT LOW TIDES…BEST CHANCES AT AVOIDING AFTERNOON STORMS WILL BE ON THE EARLY MORNING DEPARTURES. RAINFALL, WINDS, TIDES, MOON CYCLES AND SUNLIGHT ALL HAVE SIGNIFIGANT EFFECTS ON VISIBILITY AND ROUGH WATERS CAN BE VERY DIFFICULT FOR SOME TO ENDURE. KEEP IN MIND WHILE BOOKING YOUR SCALLOP TOURS THAT WE CAN NOT CONTROL MOTHER NATURE, PLEASE PLAN ACCORDINGLY.
TO BEST INFORM YOURSELF OF TIDES FOR OPTIMUM SCALLOPING AT THE TIME OF YOUR VISIT, FOLLOW THIS LINK….. tide tables
What to Bring on Your Scallop adventure.....

You are provided with all the gear that you need other than a personal comfort items, bathing suit and towel. Bottled water is provided and our Captain will have a cooler on board to keep your catch while on the boat. You will
need to bring a cooler to take your catch home with you. Sunscreen, hat, sunglasses, snacks....all a good
idea to take with you. ANYTHING THAT YOU DO NOT WANT TO GET WET SHOULD NOT BE BROUGHT
ONBOARD, BETTER SAFE THAN SORRY! You are welcome to bring beer or wine, but we ask that you do
not bring glass containers and dispose of your trash properly.

What to Expect From your Scallop Adventure.....

This is a HUNT! We snorkel at the top of the water and when you spot a scallop you must dive down to
retrieve it and put it in your bag. Being a strong swimmer is a good idea, and taking small children out to
scallop is not recommended. WE DO NOT ALLOW INFANTS ON OUR SCALLOP BOATS.
Ideal conditions would be clear shallow water, but during higher tides water can be 10 to 12 foot deep.This can be much more difficult to manage. NO ONE REACHES LIMIT EVERY SINGLE DAY AND IF YOU WANT THE CHEAPEST, MOST PRACTICAL WAY TO ACQUIRE SCALLOPS, THEN THE SEAFOOD SECTION AT THE LOCAL GROCERY STORE MAY BE THE BEST OPTION FOR YOU. IF YOU WANT GOOD TIMES AND ADVENTURE, THEN COME SEE US!
Your Captain will demonstrate how to clean the scallops, but will not clean them for you. They will have suggestions of where you can go to find someone who will clean them for you if you prefer. Most people choose to do it themselves, it is truly part of the experience! Your car will be waiting for you when you return, so your group is free to go about your day at your own pace.
Cancellation Policy:
Reservations cancelled five calendar days prior to Tour, Charter or Rental arrival date will receive a full refund less the booking fee of 4%. Any Tour, Charter or Rental cancelled by River Safaris or River Ventures due to inclement weather or other conditions beyond our control shall receive a 100% refund. Reservations cancelled less than the time period or conditions outlined above will be offered a chance to reschedule (based on availability) or receive a voucher for the Tour, Charter or Rental for the full amount paid. Vouchers have no expiration and may be used towards any Tour, Charter, or Rental.